| | | | |
| --- | --- | --- | --- |
| Poster: | He Live's | Date: | Nov 6, 2008 10:29pm |
| Forum: | GratefulDead | Subject: | Re: ECONOMICS !)! |
keynesian
well thanks for getting me to read that article. the keynesian approach seems somewhat intuitive to me. you are never doing anything too drastic. so sometimes you're bull, sometimes your bear. when you're bear, you minimize the losses. when you're bull you maximize profits.
and we have been to the top of BULLshit mountain in the last 8 years. as the idiot government regulators, treasury, all those oversight people completely blew it and the BANKING and CREDIT and INSURANCE industries built and bought bunches of houses with money made loose to spur on the HOUSING SECTOR, the closest we can currently come to any degree of MANUFACTURING.
the banking, credit, and insurance people -- they are making money off of money. not of actually doing/producing. it turns out they built an empire with a mushy cardboard foundation.
this is what i would expect from OBAMA:
PRAGMATIC
i think obama will potentially prove to be a man of clear vision. he may not knock your sox off -- but, well, put it this way -- i think something positive may happen during his presidency. i think he will actually Accomplish something real. he is the first politician that has ever actually excited me one iota. i am completely loathsome of the entire disgrace of fake fucking corporate asshole american politicians. Barak Obama, so far, is a Human Being of the highest order. (until further notice.) let's just simply contrast BARAK OBAMA to this: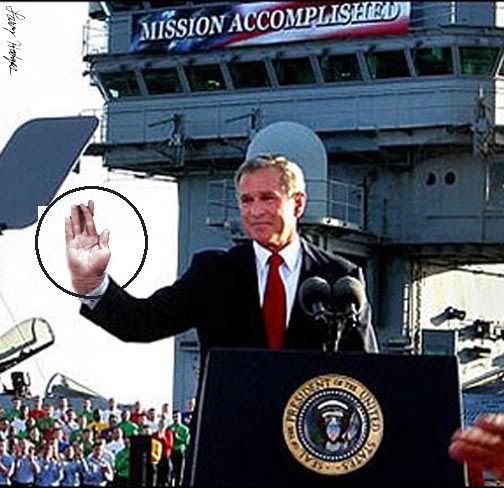 This post was modified by He Live's on 2008-11-07 06:29:32